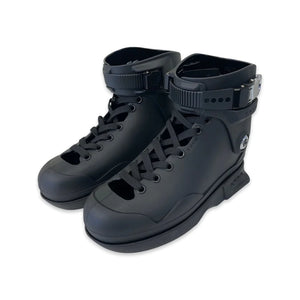 Jon Julio has been pushing the industry for decades and after years of hard work he's been able to release his own mold!
Features:
New 909 Shell designed to be more durable and offer a more stable base
2 Way adjustable cuff position to customize responsiveness
Them Souls v3
NEW SHELL SIZES - SMEDIUM and NOT SO EXTRA SMALL
Designed by Jon Julio and Kyle Sola
Them Sizing:
XS 5/6us 
Not So Small 7/7.5
Small 8/8.5us
Smedium 9/9.5us
Medium 10/10.5us
Large 11/11.5
Updated shell/boot material: Impact Resistant Plastic (TPU) material is harder/tougher for added support and longer lasting.
V.4 Them Liner Updates:
New Neoprene Toe
ORIGINAL V.1 TONGUE
Breathable mesh and memory foam
Soul Plates 3.0: 
Thickened interior walls for longer lasting (Nylon).

WIDER!

For easier customization, we introduce our new "Bridge Soul Plate Hardware".