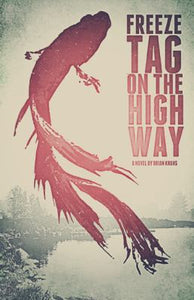 Brian Krans strikes again with his 2nd Novel "Assault Rifles and Pedophiles."  Directly from the back of the book:
Freeze Tag on the Highway takes place during the last week of summer at Camp Wazeecha, a therapeutic, confidence-boosting camp for teens with developmental disorders, low self-esteem, and authority issues.
While the brochure promises positive results, the camp's director, Jake, sedates himself with the kids' medication while leaving them to play on the jungle gyms of their chemical imbalances. When most of the staff quits in protest, Jake is forced to watch a few of the kids he despises more than the camp itself. Author Brian Krans ruthlessly intertwines images of picturesque summers and the chaos of being a teenager.
Released by Rock Town Press in July 2011. This printed book is 100% American made.
Here are all of Brian's books: