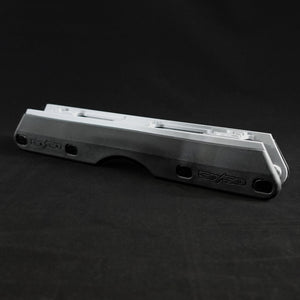 SOLD AS TWO FRAMES (wheels and antirockers sold separately)
Introducing the Prime Frame from 50/50. The first frame utilizing the Core System 2. Optimized for antirocker but incredible for flat. 
Injection molded walls with glass filled nylon
Extruded aluminum Core System 2 structure
Custom single tool 8mm axles
250mm or 270mm wheel base
120mm split between wheels 2-3
65mm riding antirocker
60mm riding flat
Compatible with all Core System 2 frame walls
50/50 recently announced the new 50/50 Prime Frames. These are the first frames designed for the new Core System 2. If you remember the old Core System, the internal frame core is metal, the outside frame wall is plastic. 50/50 has updated every piece of the old Core System while keeping the concept the same.
The new
Core
System 2 features an extruded aluminum
Core
with a lifetime warranty. These new
Cores
will last forever. So after you purchase the
Prime
frames, you can reuse the
Cores
for future walls. It's a much better investment than a single use frame.
The
Prime
Frame comes in two sizes, medium 250mm and large 270mm. They feature a 120 mm split and a deep groove optimized for antirocker but amazing for flat. Max wheel sizes are 65mm for anti, 60mm for flat and they feature a brand new single tool axle. They're available in black and white, with replacement
Prime
walls in different colors available towards the end of the year.
Maybe the biggest news with the new
Core
System 2 is that 50/50 has open sourced the design so people can develop their own walls. They've tested the frames using 3D printed walls and the frames are an amazing way to do unique designs and colors with small runs, meaning the future could be quite bright and colorful!
Below is a video made by 50/50 better explaining their new concept: