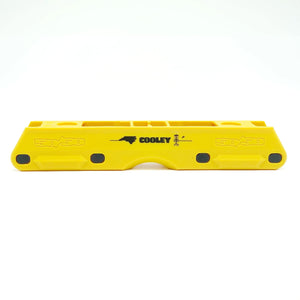 Announcing the Jon Cooley Balance 2 frame. Jon has been supporting us since the relaunch, and helped test the first samples of Balance frames in 2018. He's a North Carolina legend, winning Pow Wow in 2013, and helps the local community grow.
Jon's Balance 2 frame is a bright yellow with black axles. His logo pays tribute to NC and his disc golf obsession.
The Balance 2 is a classic frame reimagined for today's skaters. We've taken all of the feedback from the community and improved the Balance frame in 5 ways:
Bigger split (105mm), max 60mm flat, but same classic groove
One sided axles fully compatible with Prime frames
Cosmetic upgrades with smaller Juice Bumps and cleaner lines
Updated material to be faster and longer lasting
No more special frame bolts! Will work with the frame bolts on your skates.
In addition, they're still compatible with Juice Blocks and will be able to ride 65mm wheels when set up antirocker. We've kept all the good things and made everything else better.
Frame Kits include:
2x Balance 2 Frames
8x 8mm Core Axles
16x 8mm Metal Frame Spacers
8x 8mm Metal Bearing Spacers
4x 14mm frame bolts
Jon will receive a $5 royalty for each set of frames sold.