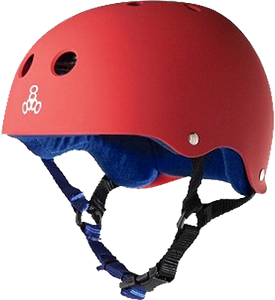 A classic helmet, protecting skaters for 18 years and counting.
With its timeless design and unique rubber finish, the Sweatsaver Helmet is a staple of Triple Eight's helmet collection.  Featuring a stink-free, moisture-wicking Sweatsaver™ Liner inside, it's a helmet you'll use for years to come. 
Multi-impact design
ABS Outer Shell with our renowned Sweatsaver™ Liner for comfort
To ensure a perfect fit, measure the circumference of your head starting in the middle of your forehead and match it with the sizes below:
XS 20.10 – 20.50 in (51 – 52 cm)

S 20.60 – 21.30 in (52 – 54 cm)

M 21.40 – 22.00 in (54 – 56 cm)

L 22.10 in – 22.90 in (56-58cm)

XL 23.00 – 24.00 in (58 – 61 cm)
Triple Eight was born on the streets of New York City, so we know what it's like to ride them. And we know what it takes to conquer them, too.

Back in 1996, we hit the pavement—literally—with our first helmet, and have been developing tough, stylish protective gear for the action sports industry ever since. Our team is continuously dreaming up new products, incorporating new technology, and maintaining our hard earned reputation for skate, bike, snow, water and derby gear of the highest quality and craftsmanship. After all, we're not only making the products, we're using them too.

You can be confident that no matter what spills you take, we're here to help you get right back up. So go ahead, push harder, go faster, fly higher. And know that whatever you ride, Triple Eight has you protected from head to toe.