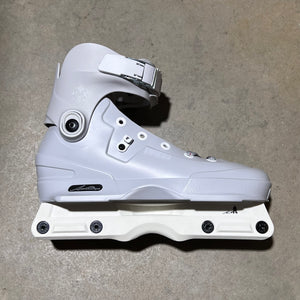 Includes:
Left and Right shells
Left and Right Cuffs
Cuff Bolts
Heel Pads
Plastic Footbed
Axles 
Laces
Unibody Design
Newest generation Aeon Cuff
45 degree lace hooks

FRAME LENGTHS
36-38 = 9.7" (246mm) / 39-42 = 10.1" (256mm) / 43-46 = 10.6" (269mm); 4x61mm
Signature Skate for a USD Legend
Honoring a Legend
Without a doubt, Aaron Feinberg is one of the best aggressive skaters…ever. For its 25th anniversary, USD is proud to honor a true legend who has transformed the sport and left a legacy few can match. The USD Aeon Aaron Feinberg Pro 60 25Y is a feature-packed, high-performance signature skate designed to meet the high standards of Aaron Feinberg himself. 

The Perfect Skate to Honor a True OG
The USD Aeon Aaron Feinberg Pro 60 25Y has a unibody construction, combining the boot and frame into a single piece which gives skaters a low center of gravity, great stability, and improved control. The Aeon is famous for its wide central grind area, allowing skaters to slide on virtually anything. Comfort is key and the USD Aeon Aaron Feinberg Pro 60 25Y doesn't disappoint coming with a comfortable and MYFIT 2nd Skin dual fit liner. Riding flat on 61mm wheels and smooth Wicked Abec 9 bearings, the USD Aeon Aaron Feinberg Pro 60 25Y delivers a memorable skating experience and is the perfect skate to honor Aaron Feinberg, a living legend.