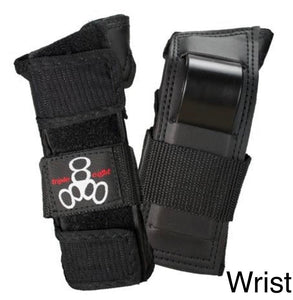 This pair of wrist guards is sold two in a pair. Guards were originally part of a bundle pack of protective gear so original box is not included. 

Wristsaver:
Tough, 4-way stretch nylon mesh provides a snug fit
High-density, impact-resistant molded ABS splints on front and back for support
Shock absorbing EVA foam secured between support splints and wrist for cushioning
Wide, reinforced elastic straps ensure a secure fit
SIZE CHART PROVIDED BY Triple8:
Wristsaver - To ensure the Wristsaver fits perfectly, measure hand circumference at the knuckles and match to the sizes listed below*:
JR 6.0 – 7.0 in
S 7.0 – 8.0 in
M 8.0 – 9.0 in
L 9.0 – 10.0 in
*PRO TIP: If your measurements are in-between the sizes shown or you're simply in doubt, we strongly recommend sizing up to the larger size. We have found over the years that customers do better when they choose the larger size.