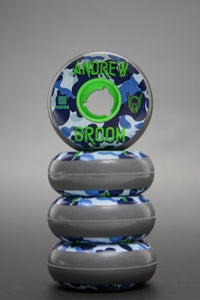 60mm (even though the print says 59mm) 
90a
Bullet profile
Grey urethane 
Green core  
Multi-color print 
From Sic Urethane:
"Andrew Broom is a special skater. We knew he was going to be a big deal when we first saw him as a little fourteen year old grommet killing it with tricks far beyond his years. Over the years Broomski has progressed and evolved into one of the strongest and most consistent skaters of his generation; yet Andrew always stayed modest and humble.
Sic Urethane is proud to present this promotional video for Andrew's second pro wheel made by our good friend Anthony Medina, shot on location in Austin Texas.
Andrew's newest Sic Urethane wheel features a beautiful light grey urethane in a brand new bullet profile with a 59mm size and classic 90a hardness.
The Broom V2 wheels are available now so get them while you can!"