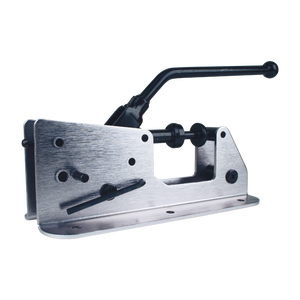 This bearing press is ideal for those who need to travel, or someone who wants to bolt it down for long term use. This press is big enough to handle your needs but small enough to fit in a skate bag. Fits 8mm bearings only.  Presses bearings into wheels up to 80mm; if positioned correctly (perhaps on a table edge) there is no size limitation on the end that removes bearings (the piece sticking out on the left in the video below).
In the video below (which shows a slightly different press model), we did not attach the press to the table. 
In our shop, we have used this older model bearing press heavily at the shop for over 8 years now (the one we have in the video is no longer available for sale).  We can confidently say we've used it thousands of times and we love it!  We attached ours to a work table, which we recommend, if you plan to use it often.
Not recommended for aluminum core wheels.