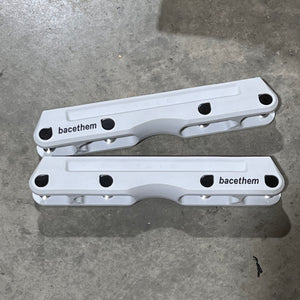 Sometimes we do customs, which leaves us with bits of a previously complete skate, so this is a stock part.
THEM STREET FRAME
UFS street skating frame, designed by Kyle Sola and Jon Julio.
Low h-block position, designed for use with flat or anti-rocker wheel setups.
Durable, low-friction material, made from injection-mold glass-filled nylon.
Precision-milled aluminum frame spacers.
Custom-made steel axles, with asymmetric head; only needs one tool to tighten or loosen.
Low riding height - 30mm from top of frame to middle of axles.
Dimensions:
Two wheelbase lengths - 250mm or 270mm wheelbase.
Fits up-to 58mm wheels for flat-rocker setups.
110mm distance between middle wheels.