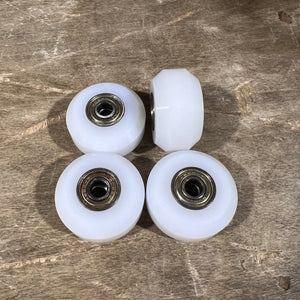 What's the point of a wheel if it doesn't spin? All 50/50 Antirocker Wheels are designed to roll, and include bearings and spacers pre-installed. We have noticed that bearing appearance may vary.
Sold 4 antirockers in a pack 
Specifications:
Weight: 50g with bearings
Diameter: 46mm
Material: Machined UHMW
50/50 explains that these antirockers are built for grinding:
"We've been experimenting with materials for over 20 years and found that UHMW is one of the best plastics for grinding. It's why we used it for our original grind plates and the original Juice Blocks. The 50/50 Antirocker Wheels are machined out of solid UHMW making them slide better than any traditional anti rocker wheel.

The design of the 50/50 Antirocker Wheel is ideal for helping you lock on to groove tricks and stay there. The angle lines up perfectly with the groove on the 50/50 Balance Frame and works great with any other frame on the market.

When people started grinding, they realized riding small hard wheels in the middle was the ideal setup. Over the years the design and materials have evolved but one thing stayed true; small hard wheels provided the best experience.

We pioneered the idea of purpose designed grind wheels with Juice Blocks. But there are tradeoffs; they only fit on our Balance frames and can scrape on transitions if you ride small wheels. We designed the 50/50 Antirocker Wheels to be the best grinding solution for all frames and setups."


About 50/50:
50/50 was started in 1994 with one focus, make skating better. Their first product was the 50/50 Grindplate, a mix of plastic and metal to make grinds easier. They evolved the grindplate design until realizing the frame could become the grindplate. This created the aftermarket frame market, a replacement for the frames that came on your skates that made skating better.
Supporting 50/50 allows you to support a company that has evolved over time, showing their ongoing commitment to the blading community.  Team riders include Stefan Brandow, Scotty Crawford, Sacha Lopez, Sascha Reichert, Matt Lyon, Jon Fromm, Jon Cooley, Chad Tannehill, Cesar Ceballos and Brent Trinidad.